Loyalty Points
At FollowersPanda, we strongly believe in the philosophy of giving back. We value each of our customers and understand that your loyalty is the cornerstone of our success. Therefore, we are thrilled to introduce our Loyalty Point System, designed exclusively for our cherished customers.
Our unique Loyalty Point System isn't about ordinary coupon codes or limited-time discounts. Instead, it's about rewarding real dollar value. With each purchase you make, regardless of the amount, you earn loyalty points. These points can be converted into real dollars and credited directly to your FollowersPanda account.
Here's how it works : For every $1 you spend, you'll receive 10 loyalty points. Once you have accumulated at least 2000 loyalty points, you can redeem them, which translates to $10 being credited directly to your FollowersPanda wallet. This amount can be used for any of our services, giving you freedom and flexibility in how you choose to spend your rewards.
All of your points are shown on my orders page like this :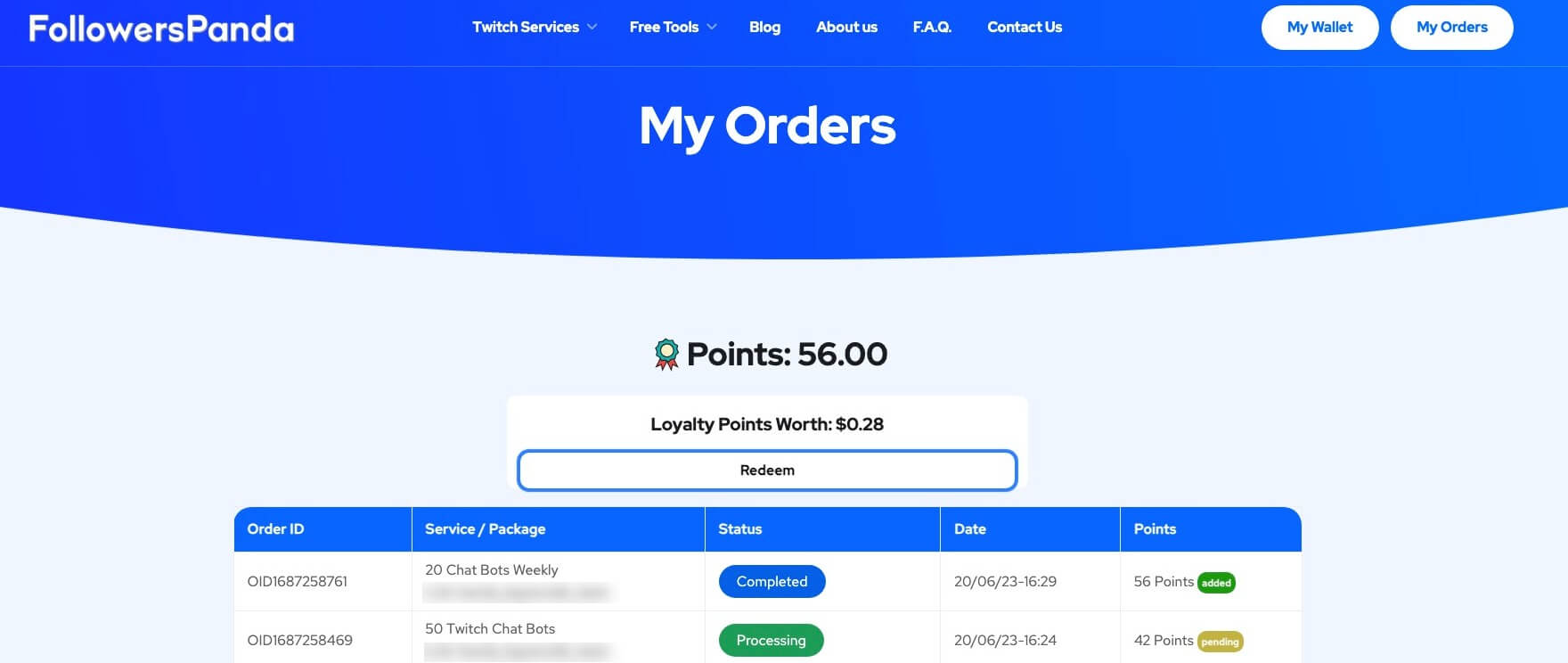 And that's not all! We believe in celebrating milestones, and hence, have another exciting offer for you. If you reach a whopping 10,000 loyalty points, or redeem your 2000 points five times, simply contact us at [email protected] or reach out to our live chat support. We will add an extra bonus of $10 to your wallet once you hit this significant milestone.
Here's a simple table to help you understand how our Loyalty Point System works:
| Spending Amount | Loyalty Points Earned | Wallet Credit |
| --- | --- | --- |
| $1 | 10 points | Redeemable once 2000 points are reached ($10 credit) |
| $2 | 20 points | Redeemable once 2000 points are reached ($10 credit) |
| $3 | 30 points | Redeemable once 2000 points are reached ($10 credit) |
| Milestone (10,000 points or 2000 points redeemed 5 times) | Additional Bonus | Extra $10 |
At FollowersPanda, we are committed to making your shopping experience rewarding. So start shopping, start earning and enjoy being a valued member of the FollowersPanda family.