Are you confused too about how to pop out twitch chat?
No, worries we've got you covered. It is no secret that social media has made everything available to us 24*7. And in that process, people have contributed their part by uploading posts, photos, videos, podcasts, tutorials and various other content online.
Anyone with a phone or laptop and internet can access and share content online for thousands of people to see.
People on the internet seem to like uploading game streams on a platform called Twitch, which many youths love worldwide. So if you are not familiar with Twitch and how to Pop out twitch chat, this article is for you.
Here in this article, we provide you all the details you should know about How to Pop out twitch chat.
How to Pop out twitch chat?
Twitch has become so popular, and many people spend their time on Twitch to stream videos of their favourite gamers.
A couple of years back, it was difficult to use the Popup chat option on Twitch, and one had to know technical details to avail of that option. Nowadays, the choice is available without knowing any technical information.
The reason for opting for the option may vary from person to person. It may be a distraction from the chat window or maybe because the user wants to chat and not watch the video.
Many times the streamers want to switch windows and comment. It doesn't matter whatever the reason is, nowadays it can be done without creating any hindrances.
One thing to be noted here is that the Pop-out chat option is available only when the gamer is live streaming.
And the choice of Pop up Chat is available only on Twitch Tv and not a mobile application. So users will have to login to their Twitch TV.
If you are wondering to get live Chatters on your Twitch Stream you can Purchase the Twitch Viewers and Chatters service on Followerspanda.
Step by Step Guide On How To Pop Out Twitch Chat
1. Firstly users will need to log in to their Twitch accounts.
2. Then, go to your favourite channel.
3. After the page is loaded, go to chat settings in the bottom right corner of the page.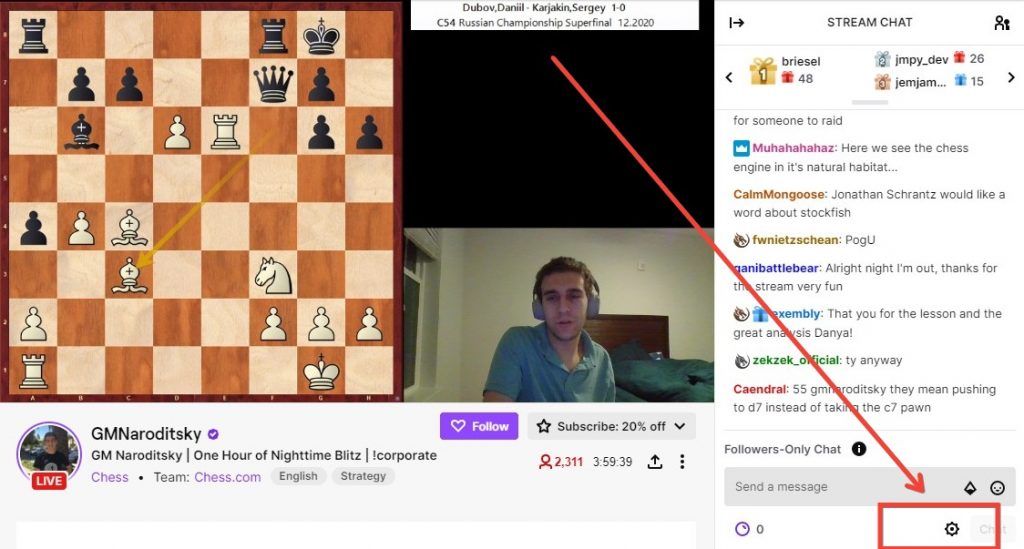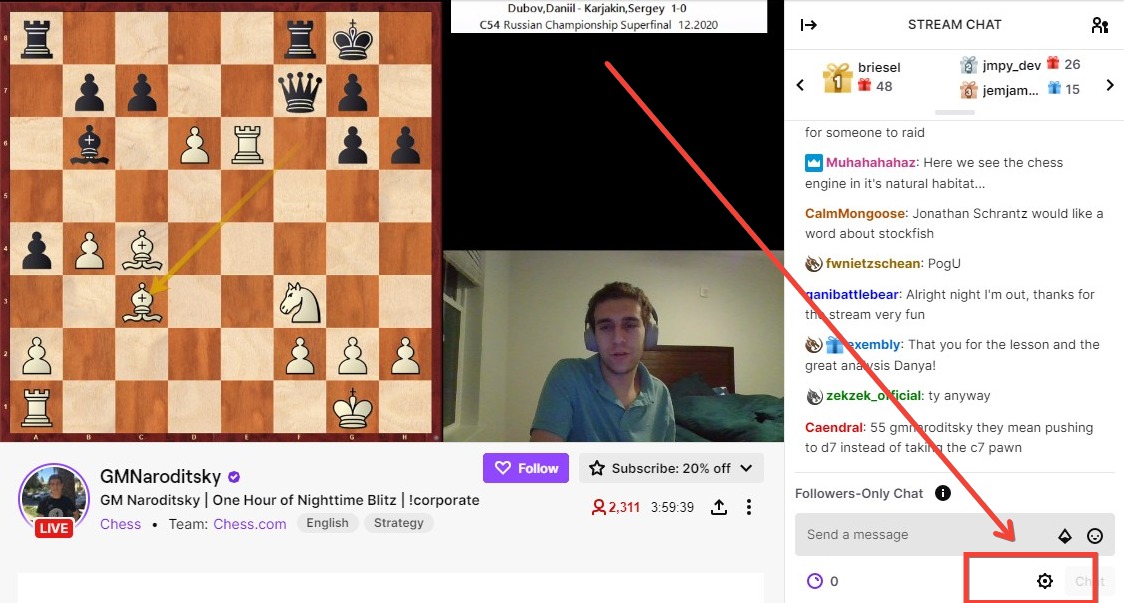 4. Go and click on the settings icon, which will lead to a small popup window with a bunch of options like Readable colors, Show Timestamp, Hide Chat, etc. From the list, options click on "Popout Chat."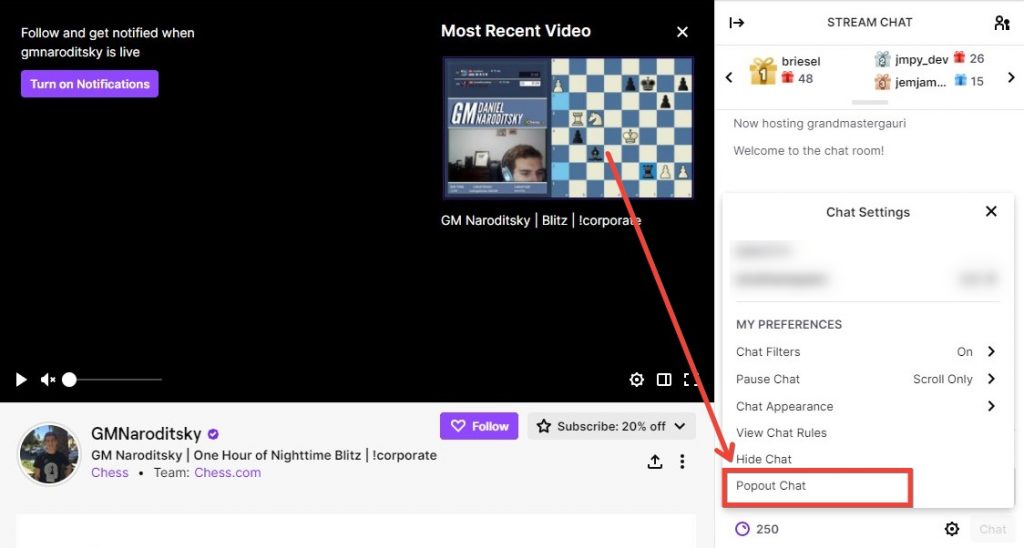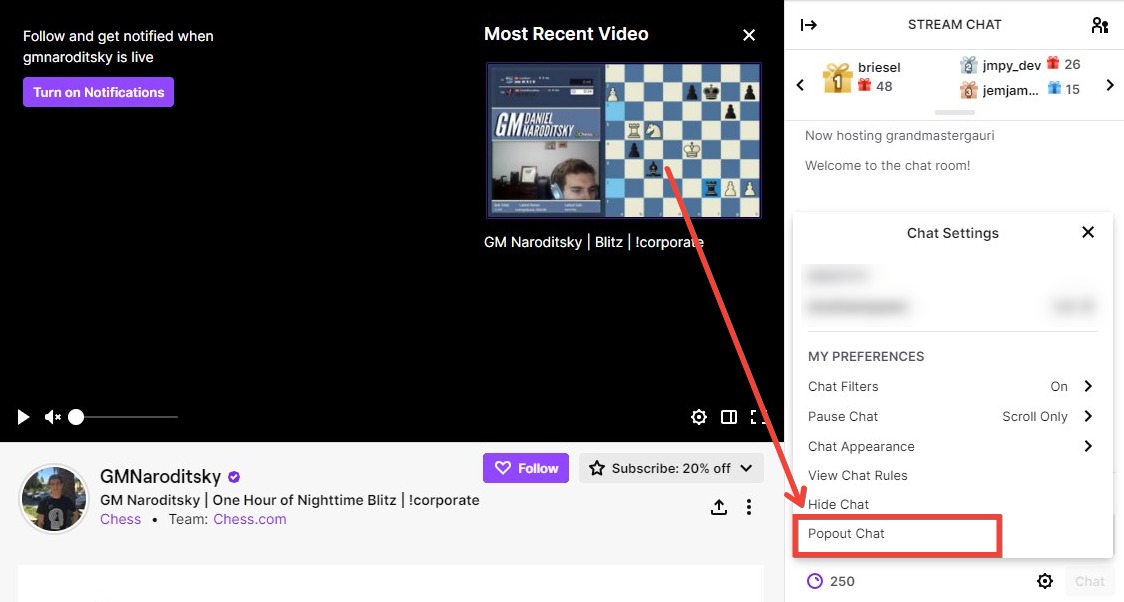 5. After you have clicked on the "Popout Chat "option, you will see a new tab with a chat screen. The screen is for chatting. You'll need to switch the tab to continue viewing the streaming video.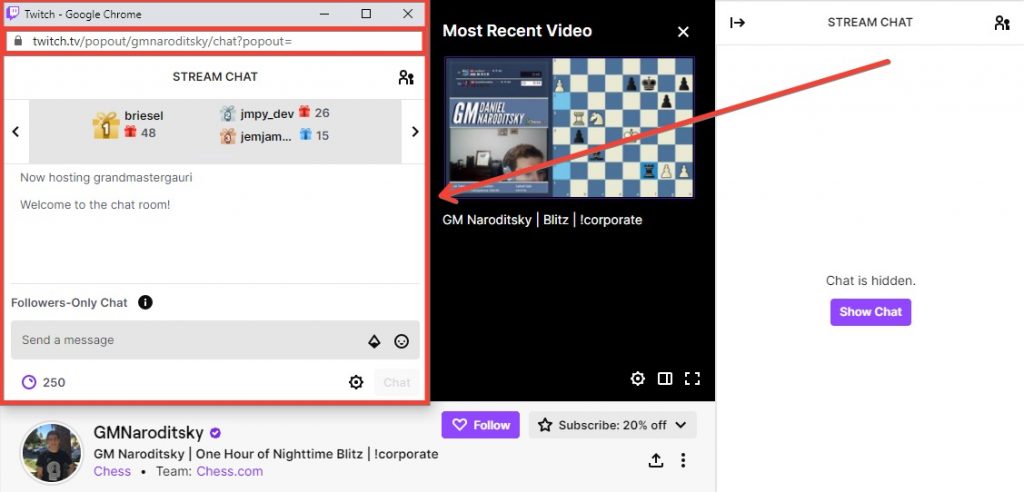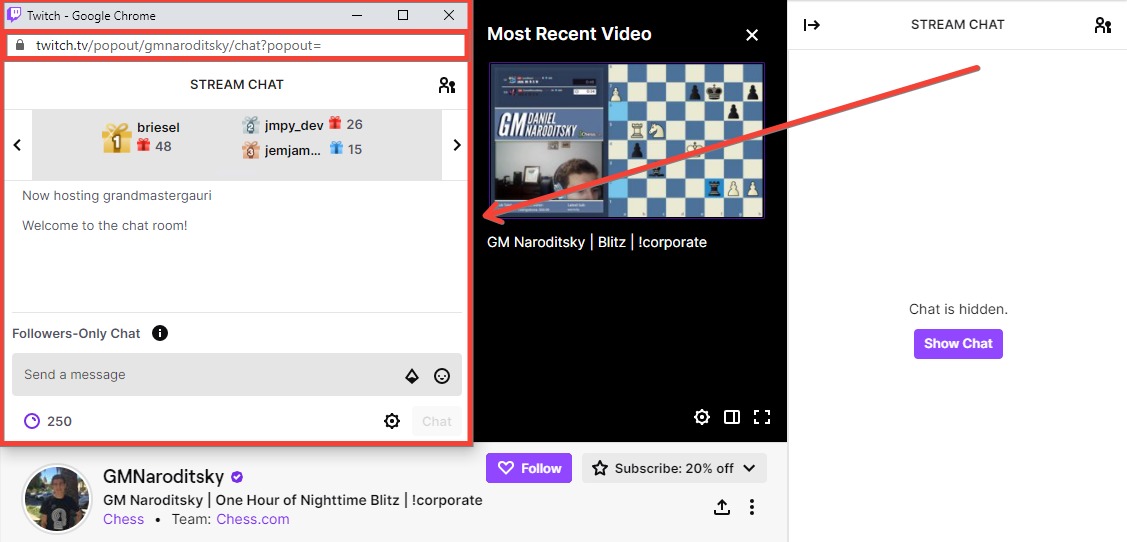 6. To return to the streaming window screen, close the tab that would lead back to normal view mode.
You can also the whole step by step video tutorial below :
Frequently Asked Questions
What is Twitch?
People who are new to game streaming or don't know anything about the gaming world might not be familiar with the platform Twitch.
Twitch is an online platform like YouTube for videos and tutorials and Instagram to share photos, videos, reels, and experiences. It is basically like a virtual society for gamers and game lovers.
The only difference is that Twitch focuses on gamers and their gaming streams.
One can upload any current gameplay of any game on-demand on their Twitch account, which many people see, either follower of that game or love watching gameplay.
One needs to set up their account on Twitch, and they are good to go. They can upload gameplay of any game they play or any popular video game to gain more views on Twitch. As you grow your presence on the platform, you can also start customizing your Twitch stream appearance to make it more appealing and engaging for your viewers.
How does Twitch Work?     
Twitch being a video-game broadcasting and viewing platform works precisely like Youtube.
One sets up their account and uploads gameplay of games in demand or popular ones like Among Us, which is currently trending.
People view these gamers' channels as they play the game, and if people enjoy the game, gamers also get donations from their fans.
Gamers do the live stream of them playing the game with audio commentary to make an engaging stream for their viewers. Its easy to Get more Twitch viewers on you Twitch stream with various services in the market. These services are usually safe and does no harm to your Twitch channel. You can also increase the number of chatters by opting for the twitch chat bots service.
Twitch has a live streaming option, audio commentary, and a chatbox to receive donations and engage with the viewers. Gamers get paid via Amazon and Paypal.
Conclusion
Twitch is a fantastic game streaming platform that is growing day by day. This gaming community is already joined by millions of people around the world.
Famous streamers have millions of twitch followers. Many more are joining and sharing their gaming experience and content.
And now, as Twitch is evolving, the platform is becoming more user friendly. If the method provided did not work, make sure to check that you were not using your mobile phone, and secondly, it was a live stream when you opted for the Popup chat option.