Do you want to block someone on twitch through chat?
You've found the perfect article. In this article, we will show you how to block someone on twitch through chat.
It is not a mystery that social media is available all the time to everyone who wants to engage with their viewers.
And in that process, social media users have played a vital role in the growth by uploading posts, photos, videos, podcasts, tutorials, and various other content online.
Nowadays, anyone with a phone or laptop and internet can access and share content online for thousands of people to see and become an influencer.
And now, to join the competition of a different kind of content creation and sharing, a new platform has made space for itself and is called Twitch, which many youths love worldwide.
So if you are not familiar with how Twitch functions and how to block someone on Twitch, this article is for you.
Here in this article, we provide you all the details you must be eager to know about How to block someone on Twitch.
How to block someone on Twitch ?
There are plenty of ways to block someone who is not following up with decency. Follow these steps to block someone on twitch chat :
Step 1 : Go to twitch website
If you want to block someone on twitch you've to go twitch.tv. Login into your personal account.
It is same process for every device. In this article, I will use my personal computer.

Step 2 : Open the twitch channel, you want to watch.
On the left hand side, you will see all the channel you follow. In this article I will go to my favorite channel that is ESL_CSGO.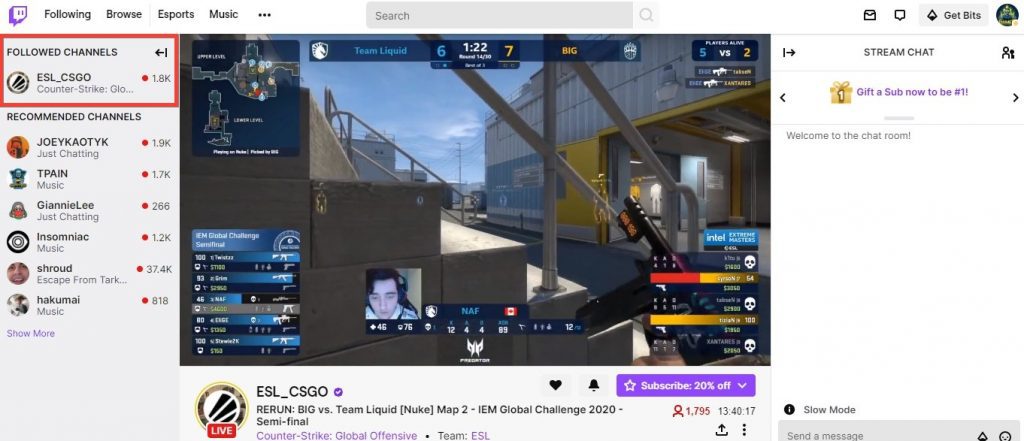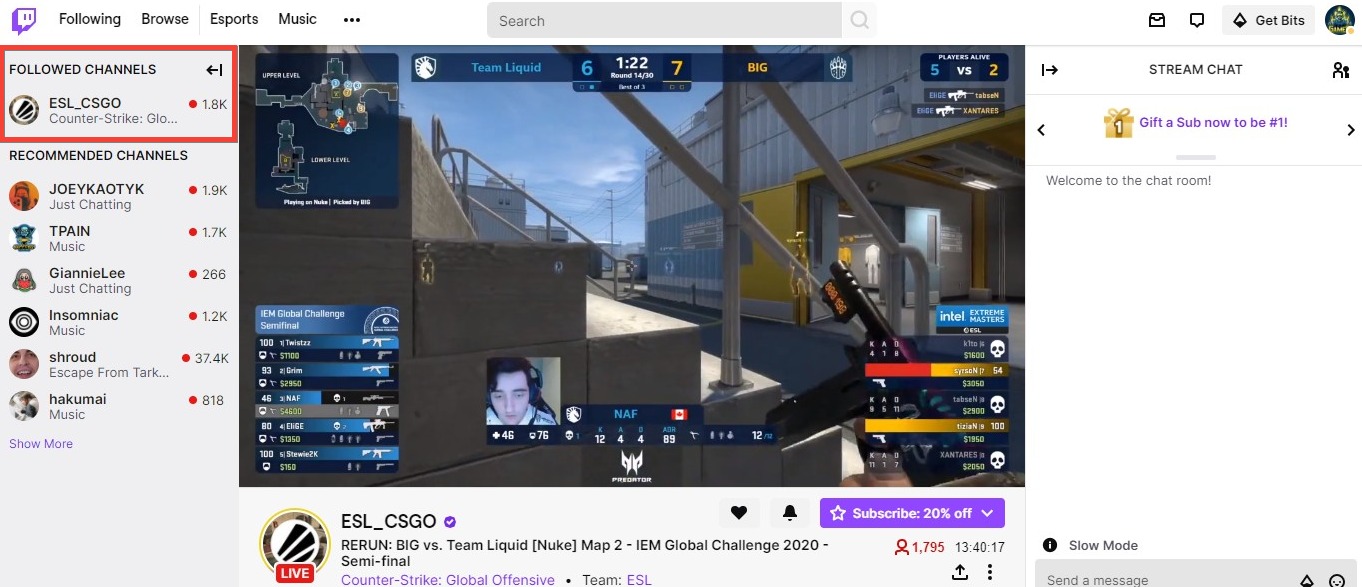 Step 3 : On the bottom-right of the screen, there's a chat option, Click on that.
Once you click on your favorite channel, you will find a chat option on the bottom-right of the screen.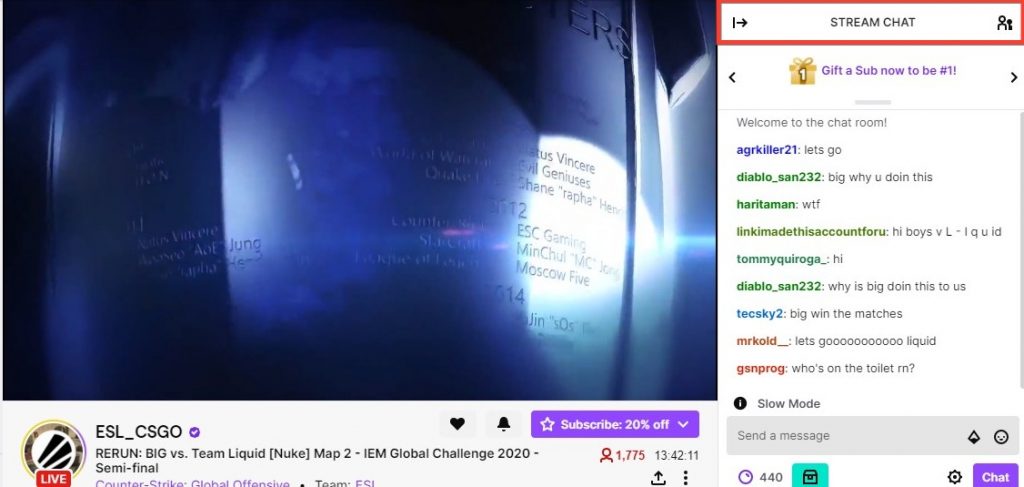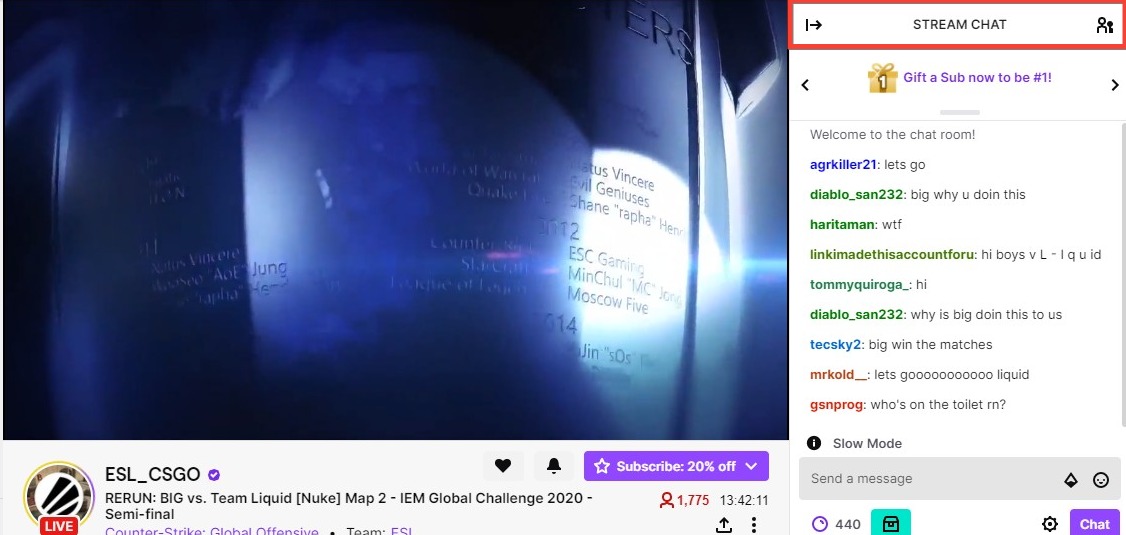 Step 4 : Whatever username you want to block, just click on that.
Once you find the chat option, you will find many users chatting. Select the username you wish to block. It will open their twitch profile preview.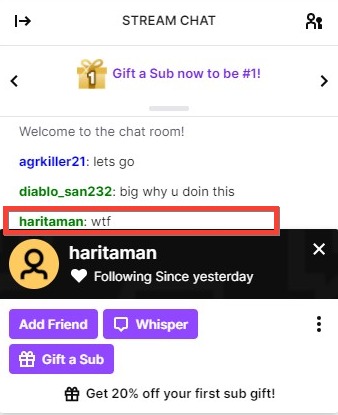 Step 5 : To block his/her profile click on three dots.
After clicking on three dots you will see two option. 1) Block & 2) Report option. Click on block option.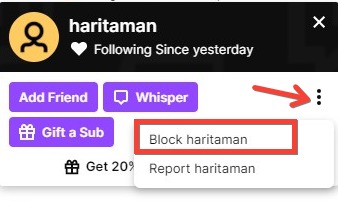 After Clicking on block option. A pop up will come on your screen. Just click red block button. And you have successfully blocked someone on twitch permanently.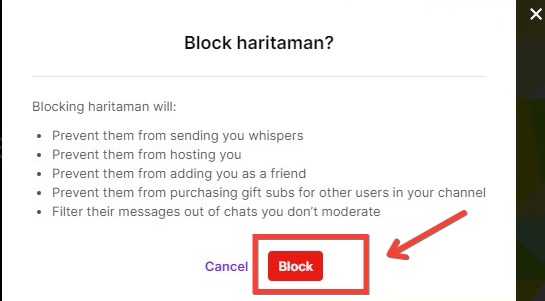 Video Tutorial : How To Block Someone On Twitch Through Chat
There could be many reasons for blocking someone on Twitch like:
It can be an overwhelming experience for you when you see your content being online visible to public.
But a threat of breach of privacy can also be there at the same time. Social media means no boundaries, meaning as soon as your content is online, people watching will question it, comment about it, and affect the confidence and morale of the gamer, especially if you are starting new.
Use of Abusive language, harassment, or cyberbullying

Spamming your chat box during live or otherwise

Stealing your content

Destructive criticism

Creating a Negative environmen

t
The creator has the ultimate authority over their content to who they want to show it. Twitch allows gamers to block anyone who may be a hindrance or bad influence in any manner to their game or channel.
Frequently Asked Questions
What is twitch?
People who are not familiar with game streaming or are new users filled with curiosity about the gaming world may not be familiar with the online platform twitch.
Twitch is an online platform, just like youtube. Still, the only difference is that on youtube, people upload all kinds of videos from education to entertainment, tutorials, cooking, etc., Twitch people who are called streamers upload game streams for their viewers. The game stream could be a Live stream also.
The only difference between Youtube and Twitch is that Twitch focuses on gamers and their gaming streams.
Users of Twitch can upload any current gameplay of any game on-demand on their Twitch account or can even live stream playing the game, which many people see, either follower of that game or love watching gameplay.
Twitch is user-friendly. You just set up your account on Twitch, and you are ready to go with it.
You have the option of uploading gameplay or live stream any game you play or trending video game to gain more views on Twitch.
How does twitch work?
Twitch is a video-game platform of viewing and broadcasting that functions precisely similarly to Youtube.
You need to set up the account on Twitch and upload gameplay of any game in demand or popular ones like Among Us. Usually, the trending games get more attention.
People search for these gamers and see the content of the channels as the gamer plays the game. Viewers who enjoy any stream of the gamer also provide donations to support their favourite content creator.
In Twitch, gamers also live streams their games with audio commentary to make an engaging stream for their viewers and attract more attention.
Twitch has a live streaming option, audio commentary, and a chatbox to receive donations and engage with the viewers. Gamers accept payment or donations through Amazon and Paypal.
In the upcoming years, more people are becoming part of the Twitch community and sharing their gaming content, which thousands of people see every day.
Conclusion
Twitch platform is growing everything because of the gaming society that creates content every day.
Whether it's gameplay or live streaming, or discussion on any new game in the market, Twitch is the right place for it.
Because it is a social platform to share content, one will come across people who are rude, hostile and are cyberbullies.
To deal with such people, you have the option of blocking the presence of a person from viewing any content. The process of blocking is pretty simple, which is explained above in detail.